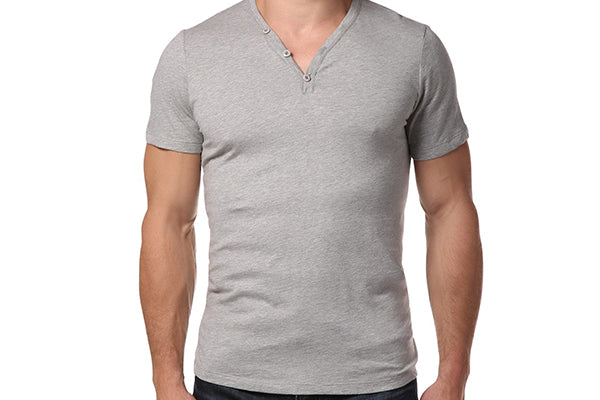 Shirts & Tops
If you love slipping into comfortable undershirts and t-shirts from name brands like Gregg Homme and Rufskin, but can't afford that high price tag, place an order with us and get the comfort you want at a price that won't take the shirt off your back. Men's shirts on Cheap Undies are stylish, sleek, and perfect for everyday wear, working out, or just hanging around the house.
Guys, not only does Cheap Undies have great ways to save on t-shirts and underwear, but with a constantly changing selection, we can help you find new brands you'll love. Stock up on everything you need and save when you pay $5.00 for shipping, no matter how much you order! We also offer a daily deal to help you save even more. Cheap shirts for men that are made with high quality materials are hard to come by. It usually seems like you get what you pay for; but when you buy cheap men's shirts from us, you're getting name brands and high quality for less. Cheap Undies offers cheap t-shirts for men at a discount by brands you've seen in high-end stores. Our cheap men's shirts include styles like mesh sleeveless tank tops, football shirts, muscle shirts, and long sleeved designs, all of which change with new styles, trends, and availability.
If you're shopping for cheap shirts for men, don't get sucked into online deals that offer lesser quality and less of a variety, look to us for the best of both at a price you can afford. You'll see how much you're saving when you look at our price comparisons. The suggested retail price is the higher price next to the low Cheap Undies price. You'll be able to get the best t-shirts 
plus
 shorts, socks, undies, and accessories for less than what you'd pay for the t-shirt alone at department stores!
Check back daily for amazing deals that can save you over 70% on shirts, undies, shorts, and much more! These items sell fast, so check early and order fast! Don't miss out on the great deals we have going on at Cheap Undies. Come for the 
undies
, but stay for the t-shirts, socks, shorts, and swimwear!
Showing 48 of 259 products