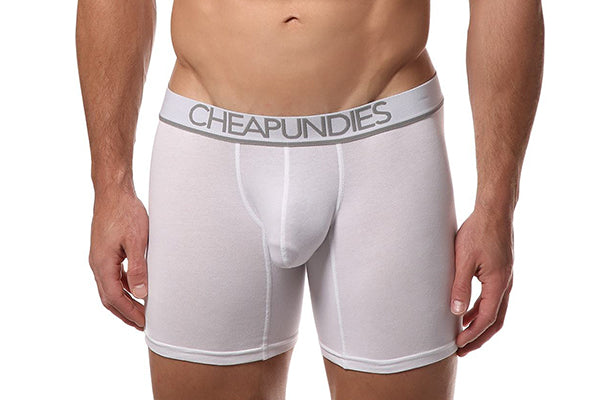 Boxer Briefs
If you enjoy having a little more coverage down below, you will definitely want to check out our selection of men's intimates. At CheapUndies, prepare to experience a whole new level of comfort with our exclusive line of boxer briefs! We sell the only men's boxer briefs you will ever truly want to wear. Our trunks boast a longer length than most along with a smooth fit, making these a great pick when you want total support. The muscle-hugging contours in our briefs make them a refreshingly sexy wardrobe option, as well. We are confident that you will fall in love with our collection of stylish underwear selections and want to shop with us again and again!
You will be astounded at the level of detail that goes into our line of boxer briefs at CheapUndies. The extensive variety of colors, styles, designs and fabrics in our selections ensure that there is something to cater to everyone's unique fashion tastes. Whether you are partial to the classic briefs or fancy the more contemporary look, our variety of choice is sure to please. We carry the hottest looks in men's intimates. You will fall in love with the longer lengths that ultimately make for a roomier, more comfortable fit around the waist and thighs. Also worth mentioning here is that quality does not equate higher prices when you shop at CheapUndies. We have the lowest prices you will find anywhere on the World Wide Web! Why settle for less when you can have the best of the best for less than half price? Shop with us today!
CheapUndies is the leading force in all things underwear-related, and what better way to save money without skimping on quality than by shopping from our exclusive intimates collection? We offer the most for less! Our boxer brief selections are the finest on the market with their premium quality fabrics, comfortable fit and numerous colors and designs to pick and choose from. Whether you are a fan of the modern designs or are more akin to the traditional look and fit, CheapUndies has it all.
Showing 48 of 163 products